ODDyssey Half Marathon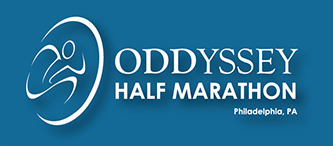 Date: 2014-06-08
Race Type: Half Marathon

The ODDyssey was recognized as one of the top 100 road races in North America last year because of the race's dedication to the runners' experience! Philadelphia's spring half marathon, the fifth annual ODDyssey will race on June 8, 2014. It has all the bells and whistles that runners want and need like a USA Track and Field certified course, professional photographers who provide free runner photographs and cash prizes for winners. The ODDyssey even has such an advanced chip timing system that as soon as you cross the finish line you can immediately look up your results on touch screen kiosks.
But, the ODDyssey also is the most fun half marathon you will ever run. It features live music along the course and at the finish, medals with beer openers built in, and commemorative pint glasses to all finishers! Best of all, sponsors Sly Fox Brewery will provide you with a free beer at the finish line and PhilaMassages will have a platoon of masseuses providing free post race massages. There is even a costume contest with bobble-head trophies (about 35% of runners ran in costume last year) and there are optional quirky challenges along the course.
Whether it's your first or hundredth half marathon the ODDyssey has something unique to offer.
Last year we had over 2,500 participants spanning 31 states and 3 countries!
The course is truly unique as it is the only race in Philadelphia that highlights so much of the beauty of Fairmount Park. Our beautiful course is so tranquil, it is hard to believe it is in the middle of one of the biggest and most vibrant Cities in the United States.
Begin in front of historic Memorial Hall, site of the Centennial Exhibition of 1876.
Race through the natural beauty of the Fairmount Horticultural Center and the Belmont Plateau
Wind past Century old mansions and vast open ballfields in East Fairmount Park.
Take in the beauty of the stunning Schuylkill River along both Kelly Drive and West River Drive crossing at the historic Falls Bridge.
Finish back at Memorial Hall for a post race bash.
The ODDyssey is also perfectly timed with the Broad Street Run. If you are training for Philadelphia's Broad Street Run, just keep your training going for five more weeks and conquer a half marathon this spring.