Beat The Blerch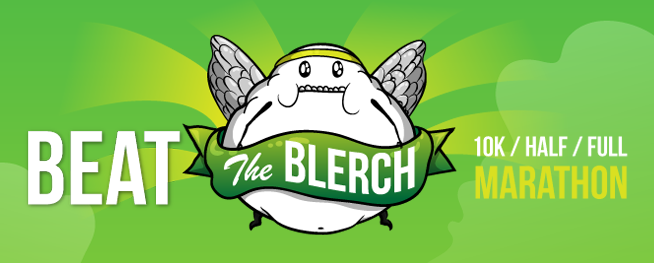 Date: 2015-09-26
Race Type: 10K, Half & Full

WHAT IS THIS CRAZY NONSENSE?
Beat The Blerch is a 10k, half marathon, and full marathon inspired by this comic about running. Organized by The Oatmeal, 2014 was the inaugural year of this race and now it's your chance to figuratively (and literally), Beat The Blerch in NJ 2015.
RACE HIGHLIGHTS
Matthew Inman, AKA The Oatmeal, will be there signing books as well as running the race.
Every participant gets a "I Beat The Blerch in 2015 " tech shirt and medal.
There will be large quantities of cupcakes at every aid station, in addition to Nutella and magical grape beverages.
There will be actual Blerchs in fat-suits chasing you throughout the race.
We won't charge you to download your race photos after the event.
Ridiculously awesome goodie bag stuffed with stickers and Blerch surprises.
A percentage of the proceeds go to a local charity and the National Wildlife Federation.
WHEN?
SATURDAY, SEPTEMBER 26th
WHERE?
Morristown, New Jersey