Trenton Double Cross Half Marathon & 10K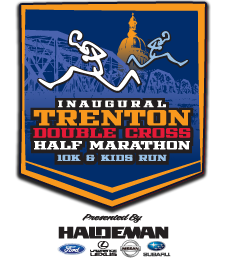 Date: 2012-11-10
Race Type: Half Marathon & 10K

Welcome to the first ever Half Marathon that will take place in Trenton; it will incorporate the Capital district, waterfront area, select areas in PA, 2 bridges, and a baseball stadium. The Half Marathon spans 13.1 miles and test the mettle of athletes from all over.
You will travel some of the most scenic portions of Trenton via a course that was designed for runners. You will tour the historic district; run the World Famous "Trenton Makes The World Takes" Bridge into Pennsylvania, then back into New Jersey over the Calhoun Street Bridge. From this point we take you into a beautiful residential area known as Cadwalader Park. This 100 acre Urban Park will amaze you as you traverse the park itself, then heading back into the Capitol District of Trenton with an epic finish inside Mercer County Waterfront Park.
Your name in lights on the big screen, family and friends cheering while you circle the park and head toward home plate for the finish you deserve!
Cap it all off with a post-race party unlike any other and swag that will leave you and your friends talking until next year's event. This is sure to be a must do event for years to come!